Chrysler Wreckers Melbourne
We pay top cash for cars in Melbourne. Chrysler Wreckers Melbourne offers top cash up to $12,999 on the spot. Used auto parts for Chrysler in Melbourne. Call us Now. Chrysler Wreckers Melbourne helps you in getting rid of your used, damaged, or even accidental car!!!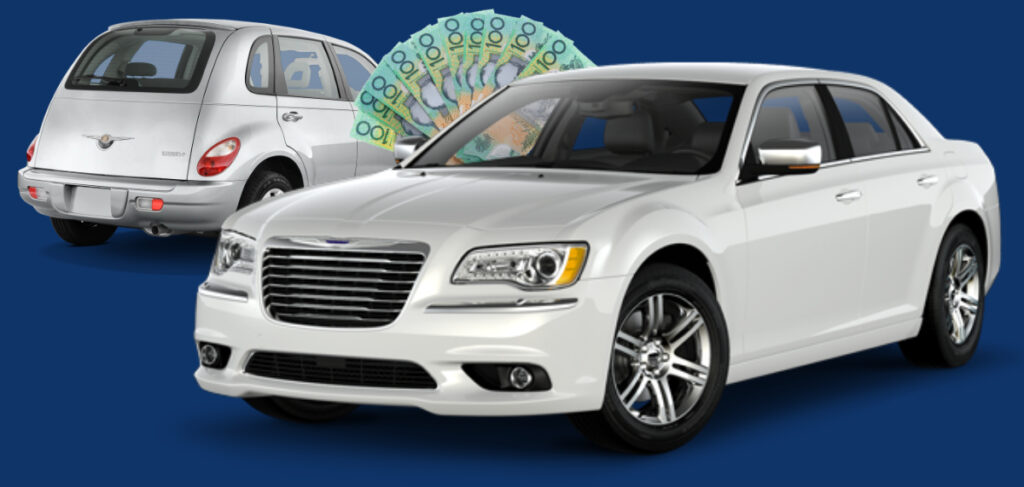 Melbourne's No.1 Chrysler Car Wrecking Service near you
We are here to provide you with "Cash for Cars" solution in Melbourne by offering various services to get rid of dysfunctional or used Chrysler models. There is no doubt in accepting the harsh reality that all of us do have brand-phobia. Not only this we love having latest models of everything we use be it a smartphone, a laptop or even a Car. People are struggling hard to maintain their status in the society.
Let us introduce you to a company that even cares for your old and damaged stuff as well. Yes, Chrysler Wreckers Melbourne is here to take the responsibility of your old, unwanted, and accidental cars. With a quite unique business model of our company, Chrysler Wreckers Melbourne can assure you a very satisfactory deal for your used Chrysler cars. Providing better cash for your cars, truck, or vans is our specialty.
Why We Want Your Chrysler Vehicle?
Why we want to buy old, damaged and scrap cars in Melbourne? We are a vehicle dismantling company that has successfully dismantled trucks, sedans, vans, and vehicles and separate the parts from the broken or dysfunctional component, then crush the remaining and sell it for scrap metal. We are Chrysler car parts recycler who works according to the customer's salvage requirements.
| | | | |
| --- | --- | --- | --- |
| 62 | 300 | 3100 | 300c |
| Centura | Cordoba | Crossfire | Crown Imperial |
| Dodge | Fifth Avenue | Galant | Grand Voyager |
| Lancer | Le Baron | New Yorker | PT Cruiser |
| Sebring | Six | Valiant | Valiant Regal |
| Voyager | Avalanche | Bel Air | Blazer |
| C10 | Camaro | Chevelle | Corvair |
| Corvair Greenbrier | Corvette | El Camino | Fleet master |
| Impala | Kommando | Master | Nova |
| One-Fifty | Pickup | Sedan Delivery | Silverado |
| SSR | Suburban | Tourer | Two-Ten |
| 300Cn | Charger | Chrysler | Neon |
| Regal | Royal | Viper | |
Give Us a Call Today – Sell Your Chrysler Cars?
The current economy is making all of us struggle in our lives to keep ourselves financially sound. We all face a time when money plays a vital role in many of our decisions and pulls us back from things that we want? Chrysler Wreckers Melbourne is aware of these concerns, and we would love to deal with you and make sure you experience a sustaining business contract with a reputable car trading company who can make your struggles easy.
Qualifying Chrysler Vehicles & Used Auto Parts
If you are skeptical about this arrangement and it sounds too good to be true. Then worry not as we are here to help you out and guide you to the best. We do what we say, Chrysler Wreckers Melbourne has a use for all the Chrysler models, irrespective of their age, condition, or status. If you have any doubts – give us a call! At our car wreckers Melbourne yard, we offer used auto parts for your Chrysler car. Feel free to call us and find spare parts for you. We offer best price in the market.
Sell My Chrysler the Easy Way – Get Free Car Removal
Chrysler Wreckers Melbourne is proud to say that we can see from our client's perspective. Therefore, Chrysler Wreckers Melbourne is one of Australia's leading car trade services.
We have developed a straightforward process for those who are stuck with their unwanted Chrysler trucks, vans or cars. Talk to one of our professional staff and get a free quote without any towing charge.
Don't leave your old, wrecked, and unwanted Chrysler to languish in your garage or outside? Get instant cash for your unwanted car.
Used Auto Parts – All Makes & Models
Are looking for used auto parts for your Chrysler vehicle in Melbourne Vicotria? Call us now and find a right car part for your vehicles now.
| | | | |
| --- | --- | --- | --- |
| Body panels | Doors | Hoods | Fenders |
| Seats | Alternators | Headlights | Fuel system parts |
| Tail lights | Control Modules | Bumpers | Shocks and struts |
| Stereo Equipment | Tire and rims | Brake parts | |
Used Spare Auto Parts for Chrysler Vehicles?
The Chrysler brand is one of the most popular and well-reputed names internationally. It is famous for its design and innovation. The brand has maintained excellent credibility and consumer appeal.
Reselling the Chrysler parts is smooth and trouble-free. This makes it simple for us to propose a top-price compensation to our dealers. Any Chrysler brand trade-in will get you up to $12,999 without any issues or hidden costs.
We also supply used auto parts for Chrysler in Melbourne. Call us today and find a car part at best price int he market.
Sell Any Make or Model – Get Cash for Old Cars Instantly!
Sell Any Make or Model Instantly on our sister websites. Get Cash on the spot for any used or unwanted Chrysler Cars.